What is Varanasi Like: Description of Varanasi.
Varanasi is a city in the northern Indian state of Uttar Pradesh. It is sometimes called Banaras. It is one of the oldest towns in the world and has always had people living there. Its history goes back more than 3,000 years.
Varanasi, which is on the Ganges River, is one of the holiest cities in India and a major center for Buddhism, Jainism, and Hinduism.
What is Varanasi Like: What Sets Varanasi Apart?
The city of Varanasi is unlike any other in India if not the entire world. It is a place where religion, culture, spirituality, and history are all mixed together in a lively, sometimes chaotic way. Varanasi is distinctive for a variety of reasons, including:
Varanasi is well known for its ghats, or steps that descend to the river. In Varanasi, there are more than 80 ghats, each with a special purpose and background. The ghats are where both locals and visitors congregate to bathe in the Ganges' sacred waters, engage in rituals, and observe the daily aarti ceremony.
The Aarti Ceremony: On Varanasi's ghats, there is a daily rite known as the aarti ceremony. It is a stirring and intense experience that involves giving fire, flowers, and incense to the river. The Dashashwamedh Ghat hosts the event every evening, which draws sizable audiences.
The Temples: There are a lot of temples in Varanasi. Each one has a unique style of architecture, a long history, and a special meaning. The Kashi Vishwanath Temple, the Durga Temple, and the Sankat Mochan Hanuman Temple are a few of Varanasi's best-known temples.
The food: The food in Varanasi is delicious and varied. There is street food, traditional vegetarian dishes, and sweets. In Varanasi, foods like chaat, lassi, kachori, and paan are among the must-try items.
How is the city of Varanasi?
A trip to Varanasi can be life-changing, but it can also be stressful and difficult. If you're arranging a vacation to Varanasi, keep the following in mind:
Varanasi is a very spiritual and religious city, so it's crucial to respect the customs and traditions of the people who live there. Dress modestly, take your shoes off when you go to a temple, and don't take pictures of people without their permission.
Be Ready for Crowds: Varanasi is a crowded, bustling city that can occasionally be overwhelming. You may have to deal with big crowds and long lines at the ghats and temples, especially during festivals and other special events.
Take a Ganga Boat Ride: Taking a Ganges boat trip is one of the best ways to visit Varanasi. This is a great way to watch the Aarti ceremony from the water, and it will give you a new look at the city and its ghats.
Discover the Old City: The Old City of Varanasi is a tangle of tiny lanes and alleys that are brimming with surprises and hidden treasures. Take a stroll through the Old City to view the city's historic buildings, browse the souvenir shops, and eat some street food.
Accept the Spirituality: Varanasi is a city immersed in spirituality and religion; if you want to fully enjoy the city, you must embrace this side of it.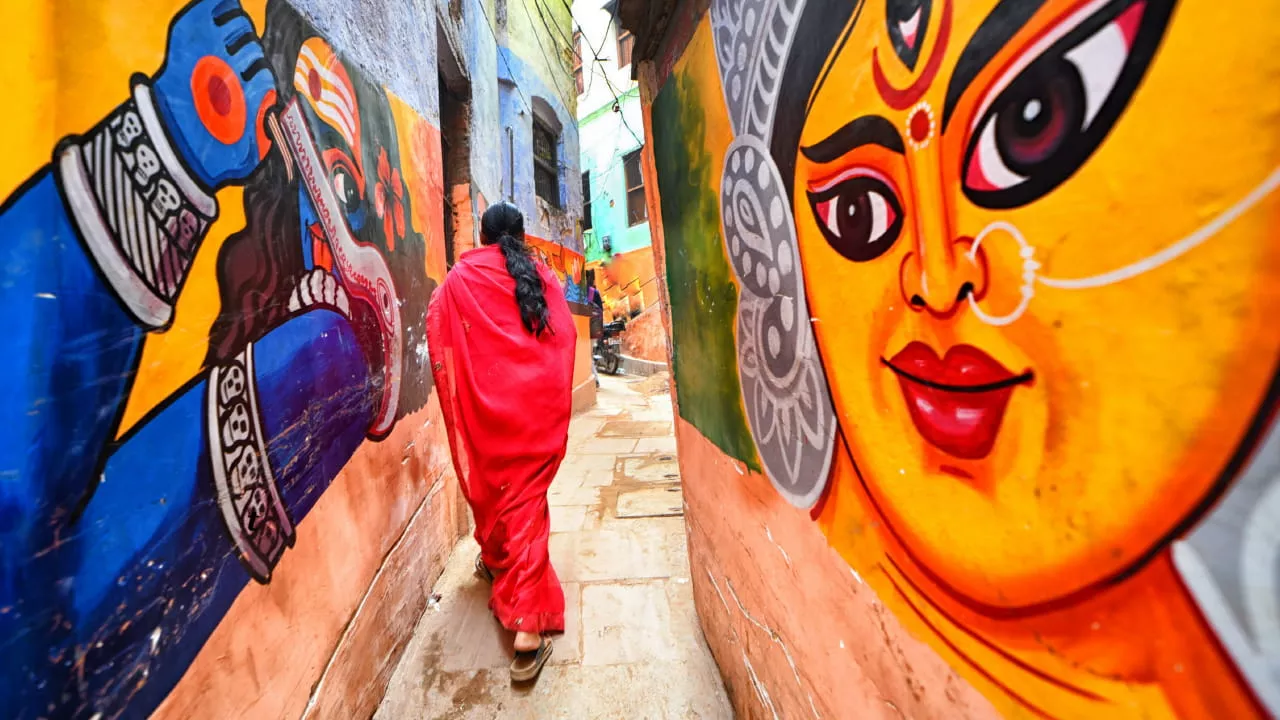 Participate in a puja: Accept the Spirituality: Varanasi is a city immersed in spirituality and religion; if you want to fully enjoy the city, you must embrace this side of it. Participate in a puja (prayer ritual), go to a yoga class, or just sit and meditate by the river.
Prepare beforehand because Varanasi might be difficult to find your way around if you are unfamiliar with the area. To avoid any last-minute stress, be sure to plan ahead and reserve lodging, tours, and transportation well in advance.
Beware of Touts: Varanasi has its fair share of touts and frauds, just like any other tourist attraction. Always bargain rates in advance and be aware of anyone trying to take you to a "hidden" ceremony or shrine.
Drink plenty of water because Varanasi can get quite hot and muggy, especially in the summer. Be hydrated by drinking lots of water, especially if you're spending a lot of time outside.
Discover Varanasi's Nightlife: This city never sleeps, and there is always something going on after dark. Attend a concert, go on a walking tour of the city, or take a stroll along the ghats at night.
As a result, Varanasi is a city that is unique among all others. For everyone interested in learning about the diversity and complexity of India, it is a must-visit location because of its rich history, lively culture, and profound spirituality. Varanasi can be difficult to visit at times, but for those who are ready to embrace the chaos and really experience the city's distinctive flavour, the benefits are well worth it.