Varanasi-Prayagraj 3N/4D Tour Package
The spiritual journey you cannot miss!
1 D-Prayagraj & 3 D-Varanasi
Varanasi-Prayagraj trip packages will take you to some of India's oldest cities, which are noted for their historical and religious significance.
Varanasi, as one of the oldest living cities, captivates and amazes its visitors. This heavenly city of India, also known as Kashi and Banaras, is one of Hinduism's seven sacred cities. Varanasi's historic city is located on the Ganga's western bank.
Prayagraj is a sacred city in Uttar Pradesh, India. It is located on the banks of the Ganges, Yamuna, and Saraswati rivers, where they merge. The city is thought to be one of the most sacred Hindu pilgrimage destinations. Ancient temples like Mata Alopi and Mankameshwar can be found here.
Day 1 - Arrival at Varanasi
Hotel stay after arriving to the city.
Arrive at the airport or train station in Varanasi, and then take a taxi to your hotel.
Visit Durga Temple, Sankat Mochan Hanuman Temple and New Vishwanath temple inside Banaras Hindu University. We take a boat journey in the evening at dusk to observe the riverside activity, watch the cremation at Manikarnika Ghat, and then stop at Dasaswamedh Ghat to take in the Ganga Aarti ceremony from the comfort of your own private boat.
Dinner should be had at one of the greatest restaurants. Stay the night in Varanasi.
Day 2 - Varanasi Sightseeing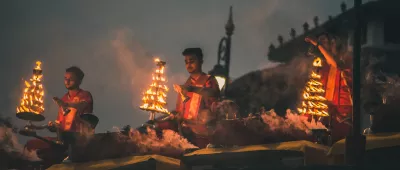 Hotel stay after arriving to the city.
Rituals can be performed if someone so desires. Visit the Kashi Vishwanath, Annapurna, Vishalakshi, and local Banarasi breakfasts while in the old city.
Go back to your hotel to recover and get ready. Drive to the crypt at Sarnath, where the Buddha gave his first sermon after achieving 'sambodhi' (enlightenment). Visit a reputable, clean local eatery for lunch.
Take a stroll around Varanasi's district of weavers to learn about the daily lives of weavers and the art of hand-weaving the renowned silk brocades and Banarasi sari. You will go to a few of the weavers' private homes and get the chance to speak with them there.
You can experience the finest of both worlds in Banaras: history and gastronomy. There are several restaurants on the streets, all serving delicious food that is sure to satisfy any traveller's appetite.
In any of the main bazaars and streets of old Banaras, you can savour some delicious street cuisine. Enjoy some of Varanasi's delectable regional cuisine, including chat, mallaiyo, lassi, thandai, and banarsi pan.
We take you to 5–6 eateries that are highly well-liked by the locals and provide you with a wide selection of food & drinks. Stay the night in Varanasi.
Day 3 - Varanasi to Prayagraj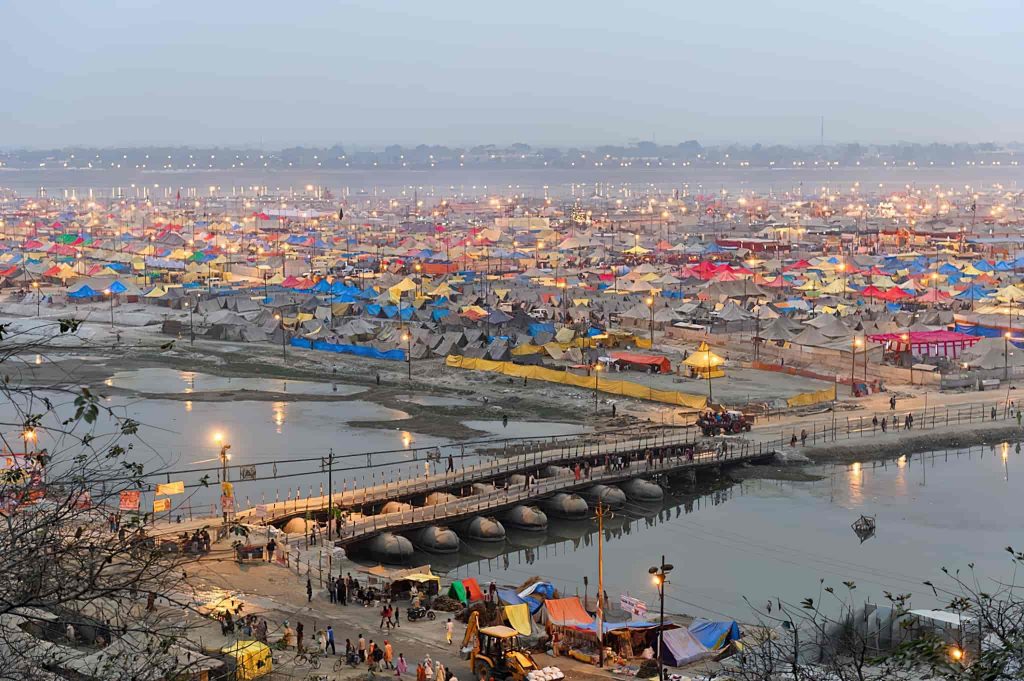 Hotel stay after arriving to the city.
After breakfast, depart for Prayagraj in the early morning. Take a boat ride to Triveni Sangam, the meeting point of the Ganga, Yamuna, and the ethereal Saraswati, where you can perform rituals and take a sacred plunge, thereafter travel to Anand Bhawan, Alopi Devi Temple, and Hanuman Temple.
In the evening, take a train or fly from Allahabad back to Varanasi, or drive there. Stay the night in Varanasi.
Day 4 - Departure from Varanasi
Hotel stay after arriving to the city.
We will take you to the airport or train station.
Tour comes to an end.